Most people are looking every day to solve the problem of neck pain(neck painful). The study found that the muscle structure of the cervical spine is special, the traction must have rhythm, repeated movements back and forth, in order to effectively decompress. Our new product is a new neck traction massager for your cervical spine health.
Looking down at books or phones, the sleeping pillow is too high(neck pain pillow), the computer screen is not enough high, these bad habits are unwittingly done every day and repeated for years which leads to bad results for our cervical vertebrae.
It uses medically proven therapy and patented technology that relieves soreness, fatigue, and relaxes muscles. The neck massager's main benefit is that it effectively treats degenerated, bulging, or herniated cervical discs. It is a neck and shoulder pain relief.
It utilizes combined Fixed Point Traction and Intelligent Air Pressure Traction System to restore the 26-degree optimal arch of the spine.
By gently stretching and decompressing the spinal cord, it helps to increase blood circulation to the structures of the cervical spine, oxygenate the surrounding muscles and relieve pain while promoting relaxation.
Why do I need this Device?
The cervical spine is a very important part of the human body and the most fragile nerve center "Corridor" of the human body. once severely injured, it can be fatal it is composed of seven bones, forming a heavy cross with the shoulders, supporting the heavy head. The neck is so important. Injury to the cervical spine will trigger a series of " Chain Reactions" that affect the health of the whole body. The most common are insomnia, long term dizziness, migraine...
Cervical Spondylosis is mainly divided into 4 types:
1- Nerve root Type, which compresses nerve roots, generally causes motor and sensory disturbances in unilateral upper limbs.
2- Myelopathy, which generally causes cervical spinal stenosis and spinal cord compression has caused symptoms of numbness of the limbs and difficulty in urination.
3- The vertebral artery type, this type of compression of the vertebral artery can cause dizziness and other symptoms.
4- The sympathetic nerve type.
It utilizes combined Fixed Point Traction and Intelligent Air Pressure Traction System to restore the 26-degree optimal arch of the spine.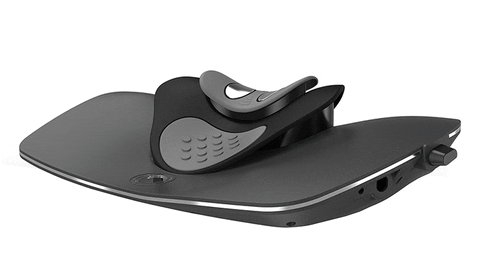 It is designed according to the physiological curvature of the human body's shoulder and neck. The 26-degree elevation arc thrust makes the product fit snugly to the neck. Hot compresses and low-frequency physiotherapy, it can relax the muscle. Under the premise of muscle relaxation, let the cervical vertebrae move up and down, so as to relieve the neck pain to the greatest extent.
Using electric pulse technology:
Deep into the skin 3-5cm,
Directly hit the pain point,
Regulate the nervous system,
Dredge the meridians,
Relieve pain.
12-speed low-frequency massage intensity  3 kinds of low-frequency combination,
A-beat,
B-acupuncture,
A+B-beat and acupuncture combination,
It can be adjusted according to the user's own feelings and preferences. The device opens up quickly the human body meridian through frequency conversion impact.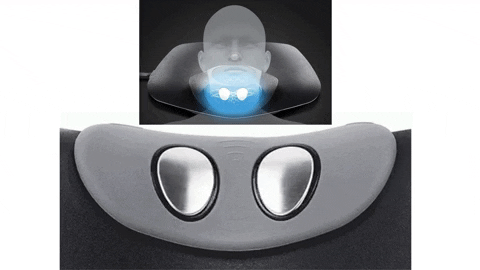 External electrode patches can be applied to many other parts of the body, such as legs, back, joints, arms, etc
Through warm and hot compresses, our neck massager can relieve muscle stiffness, make muscles relax and comfortable, also relieve soreness and fatigue.

Intelligent constant temperature can accelerate blood flow, remove cold and wetness in your neck. Increase heating while traction, the effect will be better.
Our neck massager achieves 3 different continuous round trip lifting. The whole massager can be driving stiff neck bone up to 10 cm. We have three rhythmic  automatic modes, namely:
the comfortable relaxation mode,
the enhanced push-pull mode,
the active bone -and -bone  mode,
Which can meet all requirements for different users.
 This neck massager has been carefully engineered to provide maximum comfort, efficiency, and ease of use and truly makes it possible for anyone to have a professional physiotherapy device at home.

New Multifunctional Cervical Vertebra Massager  Whole Body Heating Massager Household Electric Kneading Hot Compressor.
Product functions:
1. Massage the cervical spine
2. Warm and comfortable
3. Low-frequency pulse
4. Intelligent timing, one-key operation
Working voltage: 12VDC
Power: ≤12W
Current: ≤1 A
Working time: 15 minutes
Pulse width: 125-50,0us
Applicable part: neck back waist hip
Weight: about 1.5KG
Product features:
1.3 kinds of pressure driving mode
2.3 files heating mode
3.12 level pulse mode
4.7 kinds of automatic pattern combinations
I really Love this product!
This product is incredible! It is easy to use, comfortable and gives instant relief. I struggled with pain in my neck repeatedly and this product immediately started to fix that - from the first time I put it on I could feel a light stretch in my neck like I hadn't been able to achieve with any other product.
Love this Product
This is actually the 2nd one I purchased. I absolutely love this device. It works and helps relax my neck and feels so good, my neck stress is such a mess and this therapy works so well for me. The only reason I had to purchase a second one is because the first one stopped working and as hard as I tried to contact someone, no one would respond back to help me. So once I received my second one, I immediately tried the new charger and then my old device worked perfectly so I just googled a new charger and I now have two that work perfectly! WELL WORTH THE MONEY AND INVESTMENT! Still gave it a 5 star!!!
Love it!
I decided to purchase this after looking at loads of other models. Im glad i did buy it.
The delivery was exceptional, very impressed by it.
Awesome Product!
Wow! I've had it for an afternoon and I'm in love. I can't afford to keep going for human massages. *This* I can afford. I just hope it lasts. I think I'm going to buy another one tomorrow so my wife and I don't fight over whose turn it is.
Thanks seller .. The product corresponds to the description. Recommend